By Sarah Heinlin, Communication and Programme Officer Ghana YMCA
ALL ON BOARD" is a media development project that started mid-march 2018 in Accra, Ghana. It brings together filmmakers, film making trainers and aspiring filmmakers from Ghana, Sierra Leone and Liberia to develop and produce short films on crucial social issues in their respective countries. The German NGO WELTFILME.org has implemented trainings and workshops with attendees from different West African countries in Sierra Leone in the past and is now coming for the second part of #ALLONBOARD to Ghana!
WELTILFME.org's goal is to empower media competence of young people. The creation of own movies activates medial participation and develops the ability to understand media and their use. In addition, they are also emphasizing on public awareness, since films support intra-societal discussion, transparency and democratic participation.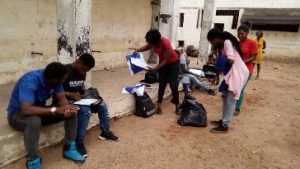 The second phase of the ''ALL ON BOARD"workshop (OB2) came off from 23rd July, 2018 to 17th August, 2018. The first part of the training was done in the Eastern Region at Community Centre of YMCA in Kofordiua. This project has contributed to create a youth power space for the young participants on the ground.
This brought on board 12 filmmakers, directors, directors of photography and editors who were trained during the first phase (trainers) and 21 trainees from Ghana, Liberia and Sierra Leone to develop and produce short films on marginalized groups in their countries.
In the 10 days' workshop in Koforidua, the trainers who were trained at the first phase in Accra, facilitated by Frank and Alex (of WELTFILME.org) trained the 21 aspiring filmmakers (trainees) in how to make films and how to educate other interested young people in directing, editing, producing fictional and documentary films. At the same time, the trainers were trained in Media for Peace by Leila from the NGO Xchange Perspectives and then trained the trainees in the understanding of media.
One evening some of the fictional films and documentaries on social issues of the last project were shown to young people in one of the towns within Eastern Region, also to attract members to the YMCA. After the 10 days' workshop, participants were grouped into six groups according to their field of profession to produce 3 short fictional and 3 documentary films in Accra. They had two weeks to do the shooting and create a rough cut of the films. They were supported by Nico (of WELTFILME.org) and Basti (of Xchange Perspectives. e.V.), two filmmakers and editors during the time of production and also to finish their productions at the computer lab at the YMCA Technical Training Centre in Accra.
We are looking forward to see the documentary "This Ability" about people with disabilities living in Ghana, and the movie "Xoese" telling the story of an ex-convict who tries to find her way back into normal life after her release. "Carrying Dreams", a movie about teenage pregnancy and "Up in Alms", a documentary telling stories of people living in the streets are two more movies we are really curious to watch them soon. All these movies are bringing to the fore, the untold stories of young people.
ALL ON BOARD is a project by WELTFILME.org, Ghana YMCA, SLADEA (Sierra Leone), NAEAL (Liberia) and Xchange Prespective e.V.(Germany) and gets financial support from the German Federal Ministry for Economic Cooperation and Development (BMZ) and Bread for the World.